Nail Your Next Accounting Interview
[Online Course + e-Book]
Learn Bill's approach to answering every Accounting Interview Question
Applies to all levels from Staff Accountant to Controller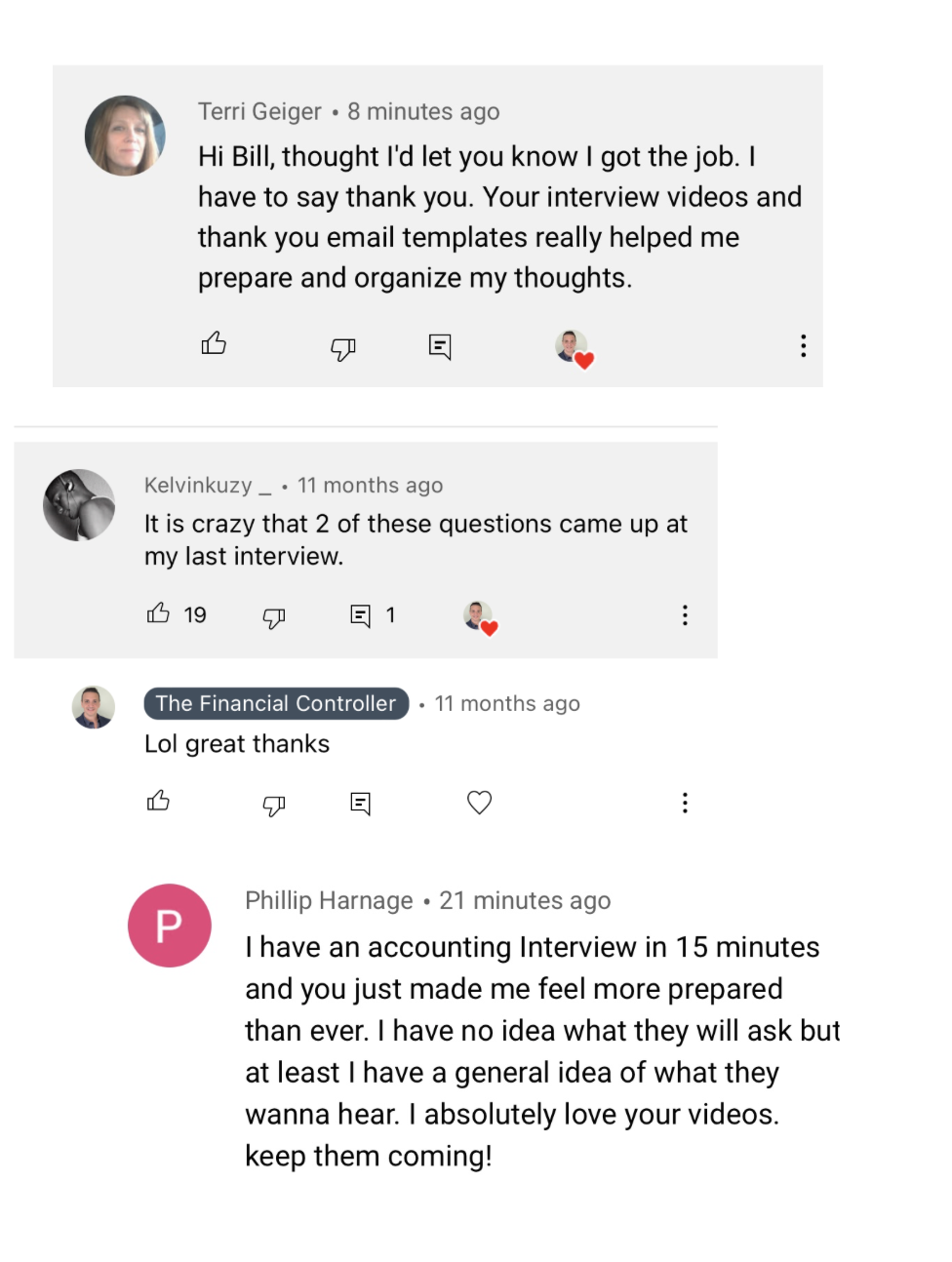 What Do You Get:
Video lectures 📺 to help you crush the Accounting interview, by Bill Hanna. Previously priced at $400
Bonus 1: PDF summary of all the tips discussed, valued at $50
Bonus 2: An Excel download with example transactions treatment under Cash and Accrual Accounting, valued at $30
Total value offered $480. Yours today for $300
Lock in your price, before price increases as I am adding new content (lectures)
Here is an email from a one of my students who crushed the interview with $20K extra on their base salary!!

Hi, my name is Bill Hanna…
I'm a senior accounting hiring manager, licensed CPA, and financial controller with over 10 years of experience hiring accountants of all levels -- from senior controllers right through to interns…
So, yes, I know a thing or two about the recruitment process you're currently going through (or are about to go through)! 
However, this wasn't always the case…
Once upon a time, I was in the exact same position as you. Fantasizing about how good my life and career would be if I could just nail the interview and land my dream job…
But I remember thinking that, as a job seeker, I had absolutely no way of ensuring that my interview prep was concrete enough for success. 
So, interviews were pretty much a stab in the dark… 
A bit like blindly throwing a dart at a dartboard and hoping for the best! 🎯
Sure, soon enough, I hit bull's eye and landed a job in accounting and finance at PWC, and I then worked my way up in private industry to become a corporate controller and then became a hiring manager... 
And after my years of hiring accountants, I learned the ins and outs of the very recruitment process that I once stressed over...
And It was here I saw firsthand that: nailing accounting interviews is really a repeatable process that you can do with the right prep and formulas…
...You see, there's really a logical, step-by-step process to it that any credible candidate with some decent qualities can deploy to get great results.
So I decided to sit down and uncover, in-depth, everything I could about passing the accounting interview stage... 
And on this page, I'm going to be introducing you to the interview success shortcut that I ended up creating because...  
Successfully becoming an Accountant can and will open SO MANY doors for you! 
Here's just a few reasons why:
PANDEMIC-PROOF JOB SECURITY:

People will ALWAYS demand accountants (during the good and bad times) -- whether it's assistance with filing accounts, overlooking audits, or providing financial advice... Your clients will need your services! This means that you're always going to be promised an interesting and varied career with

long-term

career progression

...
GROWTH OPPORTUNITIES:

Your firm will provide you with

top-level training

that'll make you highly valued in the job market…And what you'll learn is also transferrable to anything else you wish to pursue in the future -- whether it's becoming a CFO or Partner in an accountancy firm, joining a large corporate, or starting your own practice or business...
ACCOUNTANTS SALARY:

It's no secret that as an accountant you'll be

paid very well

! Of course, this will only get higher as you progress through the ranks and win more clients...This is quite literally game-changing if money is something that motivates you...

 
...And so, I wanted to create something that could boost your confidence on interview day so that you, too, could experience all of the above benefits and MORE... 
Now, few qualified people have the confidence or time to give away these tips and tricks. But I sincerely hope that my guide will give a clearer picture of why successful candidates succeed and failures fail. Because the truth is:
EVEN IF...
You have little to no background experience in accounting
YOU CAN...
Confidently crush your Accounting Interview
WITHOUT... 
Losing your sanity in the process
Because let's face it: Interviews can be daunting!😩
You may be highly driven and have all the abilities in the world to flourish in an accounting role. But there's just one problem:
You need to get past the interview stage first! 
So...
...Maybe you're just starting out and you're desperate for your first entry-level position in an accountancy firm (giving you that critical experience to progress further)...
OR
...Perhaps you're looking to nail an accounting position at a new company that you actually want to work for with a better culture, environment and pay packet...  
OR
...Maybe you're just an ambitious and excited individual that wants a headstart on future accounting interviews and testing...
No matter where you are -- you cannot underestimate how important it is to know what the interviewer is actually looking for in the answers to their questions. 
And you know what? This doesn't have to be hard!
For most people, they just need a fresh perspective to give them that "ah-ha" moment... 
Problem is, there's not enough solid information out there. Sure, you can search "tips for accounting interviews" on Google and find a bunch of free articles…
Because this is what most people do…
And make no mistake, there is certainly lots of solid free information out there...
But for the most part, you'll be met with the same glaringly obvious information that everybody else sees... A seemingly endless supply of vague methods, and wishy-washy ideas on how to breeze past interviews...
...Nothing catered perfectly for Accounting candidates!
And in this sea of confusion, you need a definite guide that cuts through the noise and focuses only on what matters... 
...And that's where my years of expertise can be your biggest asset. 
I've done all the work for you. All you have to do is apply it…
So then, moving on…How's it possible that some people fly through these interviews, while others often struggle to even stoke the interviewer's interest?
...What do all of the top performers have in common that can't help but separate them from the remaining 90% of candidates destined for rejection?
And how can you apply EXACTLY what they're doing to your very own upcoming interview?🤔
You see, there ARE proven frameworks that virtually every successful candidate follows (whether they know it, or not)...  
Seriously. There are things that are proven to work and things that are proven not to work in interview scenarios. Some are obvious, and some not so obvious.
Sure, there are things that might work, too. But good answers usually revolve around a similar solid foundation... 
Now, you're not going to know most of the questions typically asked because, well, you're not an accounting hiring manager!
...So, listen, there are questions that interviewers LOVE to ask when it comes to accounting and finance interviews…
If you know these, and also have the corresponding model answers, you can then have razor-sharp clarity about what's to come your way on interview day. 
So, let me ask you a question: Would you like to find out exactly how YOU can unlock your full potential on interview day by knowing the most popular questions?
AND would you like a complete and definitive answer guide to help you to beat out even the most ferocious competition, even when their credentials are brilliant, their confidence huge, and their arguments persuasive? 
Well, my course for budding accountants, "Accounting Interview Guide: The Night Before The Interview," will show you: 
✅ How to be better prepared than 90% of the other candidates that are all gunning to be the clear 'top candidate.'
✅ The little-known trick to answering the inevitable "tell me about yourself question"...using my simple formula can steer you towards a tremendous first impression.
✅ Why giving long-form answers are not always a good idea -- you want to be short and concise and hit on the right keywords. See example on page 4 of eBook
✅ What you must do at once if you're asked: "Walk me through your background?"
✅ The 7 often overlooked story-based questions that you MUST have answers for… because 1 of them is bound to come up (I would know... I ask them all the time)!  
✅  Sure ways to sell yourself, the SUBTLE way: AND how YOU can let your "fit" shine through easily by just answering their questions (correctly).  
✅ The 3 simple steps you must follow immediately if you struggle to give an answer to a question (Remember, your ability to think fast on your feet is being challenged here...don't be like a deer caught in the headlights). 
✅ The game-changing difference between answers that impress… VS. answers that fail miserably.
✅ The mean and nasty Technical accounting questions that interviewers CAN get away with asking you. Make sure you have an answer prepared for each...
...👉 A company with three bank accounts for processing payments can combine the three accounts into one ledger, right? Wrong! Page 20 of eBook explains why. 
❌ What NEVER to do during your accounting interview if you want to leave a lasting impression. (And my proven step-by-step formula on what to do instead!)
❌ The absolute worst thing you can do during an accounting interview: It's practically an invitation to be seen as "immature." Page 6 of eBook
🏆 PLUS steal my complete set of in-depth, expert-level model answers -- make sure you study them from your mobile, tablet, or computer for your "instant edge!"
...AND much, much more...
You see, I have removed all of the guesswork. I show you the questions that come up most and break down how you should approach answering them in a simple, concise, and understandable manner. 
I lay it all out for you so that when you're in an interview you're able to address the question instantly. It's really that simple. 
In reality, you're getting proper answer validation, done-for-you interview question research, and pre-testing before you even go and attempt the real thing where the stakes are high... 
Because I want you to gain the confidence necessary to have a super interview!
Oh yeah, and the techniques and answers shared will of course work for both in-person interviews and zoom interviews which are increasingly on the rise post-COVID. 
Now, let me tell you why my course is an absolute no-brainer if you're serious about nailing your interview:

Your Return on Investment is off the Charts!📈
My average student reported a salary increase of $10,000 when they landed their new job after taking this very course!
So...let's establish the absolutes: 
This course costs $149

This means that the ROI is $10,000 / $149 =

6,600%
As you can see, the price of this course should be significantly higher! You really are robbing the bank here... It's a no-brainer.
And, I really do want to make the final hurdle that little bit easier for those that genuinely want to enter the lucrative profession that is: Accounting. 
...That's why I've made the 'Accounting Interview Guide: The Night Before The Interview!' an easy-to-follow video course that also includes a PDF summary of all content covered and an excel download which gives you a real taste for accrual accounting (a key accounting principle that could be tested). 
So, to be clear: Here's what you're getting:
Video Lectures

to help you crush the Accounting Interview (Previously priced at $400).
Bonus 1:

PDF eBook summary of all my expert tips ($50 value -- Yours for FREE!)
Bonus 2: Excel download with example transactions under Cash and Accrual Accounting ($30 value -- Yours for FREE!)  
Total value: $480 
Yours for only $149 when you enroll into
'Accounting Interview Guide: The Night Before The Interview!' 
today!
As you can see, the total value of the bonuses ALONE is almost $100!
...Because this guide is designed to give you everything you need to enter that interview room brimming with unshakable confidence. 
I've taken everything I've learned about the accounting recruitment process and simplified it down to the core details so that you've got a usable resource that can give your chances of landing the job a major boost.  
Sure, you can go it alone. Afterall, most people do! But that's risky business if you ask me...
Especially when there's so much on the line!
And especially when you can:
Arm yourself with expert-level answers to the most frequently asked questions! 💪
So, I urge you to take the guesswork out of your interview prep and plan ahead the right way... 
Save yourself countless hours of research and tons of frustration.
Feel completely confident with your answers and wave goodbye to uncertainty. 
Utilize fundamental battle-test interview techniques and principles that work like a charm.  
Acquire the ability to give high-level answers to questions. 
...All the pieces are put together for you...Frequently asked questions PLUS bullet-proof model answers to imitate that'll just work…
Every. Single. Time. 
PLUS hidden tactics that very few (if any) of your competition will know -- this is what will set you apart from everyone else.
Now, by not enrolling today, you run the risk of missing out on expert-level advice at a MASSIVE discount, and feeling disappointed should your upcoming interview not go to plan... 
But, by taking action today, you immediately empower yourself with the tools that will help to make a HUGE difference...
Imagine how it would feel receiving the "congrats, you got the job" call. Think about the smile on your face and what it would mean for you going forward…
Let's Make That Feeling a Reality, Together! 🤝
Enroll today for all my experience & specialized knowledge at your fingertips


Bill has been a practicing CPA and Controller for the past 10 years. More importantly, a hiring manager, hiring all levels of accountants: From interns to Controllers. In this course, Bill shares his wisdom on how to crush your interview and stand out as the clear top candidate.